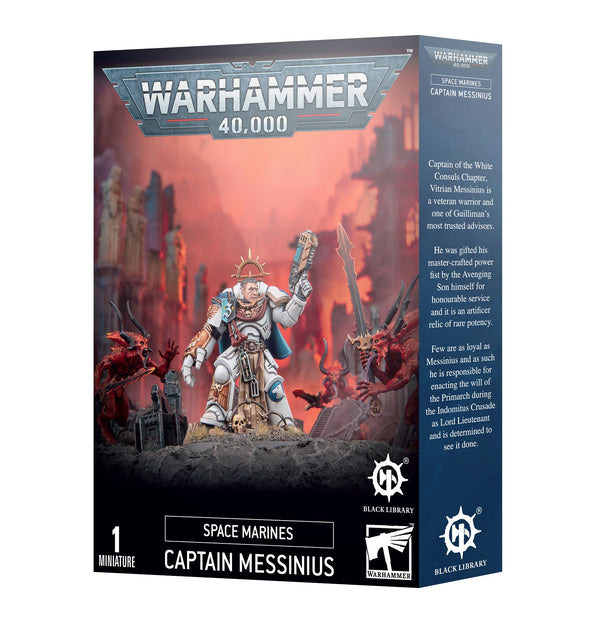 White Consuls: Captain Messinius
£20.40
15% Off
£24.00
Klarna Buy now pay later available
Earn 20 Loyalty Points
You are buying a genuine
product, shop with confidence.
We only sell new, unused products
37 In Stock
About This Product
| | |
| --- | --- |
| Supplier | Games Workshop |
| Code | 99120101386-WAVE2 |
| Type | Miniatures |
Description
Buy Cheap Warhammer 40,000 Space Marines Models Now, Get Same Day Dispatch In Stock Orders! Free UK Delivery Over £75! Royal Mail 24 Service Available At Checkout!
1 White Consuls: Captain Messinius box set contains:

14 plastic components, and is supplied with 1x Citadel 40mm Round Base
Messinius uses the Primaris Captain rules available in Codex: Space Marines, allowing you to field him in your Adeptus Astartes armies straight away.
First released as part of the Black Library Celebration 2023, Captain Messinius takes to the battlefield clad in power armour decorated with the symbols of the White Consuls, Crusade Fleet Tertius, and the Lord Commander himself. He wears a unique power fist adorned with sculpted auramite, and wields a plasma pistol in his other hand. Messinius can be built with a wreath-topped helmet or a bare head, revealing his scarred features.

Supplied unpainted, some assembly may be required
DISCLAIMER: Due to Games Workshop trade terms, we can only ship Games Workshop products to the following countries: Austria, Belgium, Bulgaria, Croatia, Cyprus, Czech Republic, Denmark, Estonia, Finland, France, Germany, Gibraltar, Greece, Hungary, Iceland, Ireland, Italy, Latvia, Liechtenstein, Lithuania, Luxembourg, Malta, Netherlands, Norway, Poland, Portugal, Romania, Slovakia, Slovenia, Spain, Sweden, Switzerland, United Kingdom
Reviews